---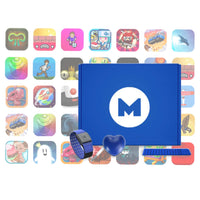 All Mightier Memberships include:
The Mightier App which creates a world of fun games where your child can learn and practice visualizing and managing their emotions. Available in Apple, Google and Amazon App Stores.
The Mightier tablet which is an Android 9.0 tablet and provides your child with a dedicated device to play Mightier.  You may also use your own device.
The Mightier child heart rate monitor which brings emotions into the games so your child can see what they are feeling.
2 heart rate monitor bands
Wall charger
Stress Heart
The Mightier Family Care Team which is staffed with experts with clinical backgrounds available to enhance and support your family's Mightier journey. This includes live support 7 days a week.